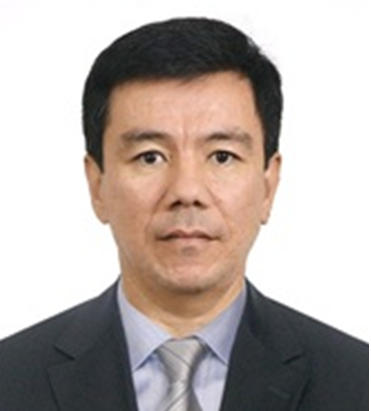 CONTROL AND COMPUTER ENGINEERING DEPARTMENT
March 2004-Aug 2007  

PhD degree, Seoul (South Korea), Information Technologies Policy Program (ITPP), Seoul National University


1989-1994 

Engineer, Telecommunication Engineering Tashkent Electrotechnical
Institute of Communications, Telecommunication networks and switching systems
| | |
| --- | --- |
| 2019–Present   | Head of Control and Computer Engineering Department, Turin Polytechnic University in Tashkent |
| 2016–2018 | Associate professor, Control and Computer Engineering Department |
| 2014–2016 | Vice Rector, INHA University in Tashkent, Department of Control and Computer Engineering, professor |
| 2010– 2014 | Associate professor, Control and Computer Engineering Department, Professor, Turin Polytechnic University in Tashkent |
| 2008– 2010 | Head of MIS department, Management Development Institute of Singapore in Tashkent (MDIST) |
| 1996–2004 | Assistant Professor, Tashkent University of Information Technologies |
Honours, Awards, Fellowships, Membership of Professional Societies
Blockchain in Healthcare

AI Mammo Cancer

Face recognition systems
Multivalued multifunctional elements of information technologies;
---
Digital economy and Blockchain technologies implementation;
---
Deep machine learning;
---
Artificial Intelligence and IoT;
---
SAP S/4 HANA
---
1. "Blockchain use case in education" N.Mahamatov, International Blockchain Summit, Tashkent 2019.
---
2. F.K.Tursunbayev, N.E.Mahamatov , Dynamic properties of multivalued multifunctional elements of information technology, 2017 International Conference on Information Science and Communications Technologies (ICISCT) Applications, Trends and Opportunities.
---
3. N. Mahamatov, S.W. Cha, The 6th International Conference on Application of Information and Communication Technologies, AICT2012, Georgia, Tbilisi, 2012. Journal of Communication and Computer, USA. "Telecommunication Services Diffusion i n CIS: Dynamics of Competition and Complementarity among Telecommunication Servic es".
---
4. PRiME 2012, Hawaii Convention Center Symposium: Contemporary Issues and Case Stud ies in Electrochemical Innovation, 2012. "Technology Transfer between University and I ndustry in Uzbekistan: Techno Park Model". N.Mahamatov, S.W. Cha.
---
5. NANO Korea 2012 conference, Jeju, Korea, "Pulsed Laser Deposition 을 통한 Y-doped BaZrO3증착 조건 연구" A parametric study on thin film Y-doped BaZrO3 via Pulsed Laser Deposition *J. Y. Pae1, S. W. Cha , I. W. Chang , S. H. Ji , Nurilla Mahamatov
---
6. Mahamatov N.E., 2011. The First Scientific Conference at TPUT, "Uzbekistan as an Investment Opportunity"
---
7. Mahamatov N.E., 2010. The 3rd Global ICT Seoul Conference 2010, "Future trends and development of mobile communications in Uzbekistan and CIS"
---
8. Training of Trainers Workshop on Improving Public Service through ICT, co-organized in partnership with the Asian Development Bank (ADB), and the National Information Society Agency (NIA) of the Republic of Korea, August 2010.
---
9. 3rd IEEE/IFIP International Conference in Central Asia on ICI 2007. "Telecommunication services diffusion in CIS: dynamics of competition and complementarity among telecommunication services". Mahamatov, N. Jongsu Lee Minkyu Lee. Econ. & Policy Program Coll. of Eng., Seoul Nat. Univ., Seoul.
---
10. International Conference on Electronics, Information's and Communications 2006. N. Mahamatov, S. Kasimov. "Asian Language Processing and Information Technologies" ALPIT 2006 #UZB 16.
---