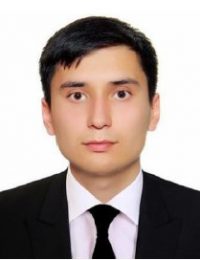 Mechanical and Aerospace ENGINEERING department​
2019-present

PhD Student, Turin polytechnic university in Tashkent, Tashkent (Uzbekistan)


Sep 2016–Apr 2017

Master degree programm of Mechatronics

,

Politecnico di Torino, Italy





Oct 2015–Oct 2017

Master of Science in Mechatronics Engineering,
Turin polytechnic university in Tashkent, Tashkent (Uzbekistan)


Sep 2010–Oct 2014

Bachelor of Science in Mechanical Engineering, Turin polytechnic university in Tashkent, Tashkent (Uzbekistan)

May 2017–Nov 2019

Internship Coordinator, Turin Polytechnic University in Tashkent


Jan 2015–Oct 2015

Production Coordinator, 

UzAuto TRAILER" Ltd, Samarkand (Uzbekistan), Samarkand (Uzbekistan)




Honours, Awards, Fellowships, Membership of Professional Societies
Ongoing Projects:

Road damage detection and monitoring using MEMS sensors

Completed Projects:
Journals:
Conferences:

1. Yunusov A., Riskaliev D., Abdukarimov N., Eshkabilov S. (2020) 'Signal Processing and Conditioning Tools and Methods for Road Profile Assessment.' In: Ivanov V. et al. (eds) Advances in Design, Simulation and Manufacturing II. DSMIE 2019. Lecture Notes in Mechanical Engineering. Springer, Cham

2. Abduvokhid Yunusov, Sulaymon Eshkabilov, Davron Riskaliev, Nurmukhammad Abdukarimov (2019) 'Estimation and Evaluation of Road Roughness via Different Tools and Methods', Transport Problems 2019, XI International Scientific Conference, Silesian University of Technology Faculty of Transport. Poland, 26 June, p. 770-784.

3. Abdukarimov N.A., Abdukarimov A. "Optimization of temperature, humidity and pressure monitoring system", Materials of the international VII young scientific conference - "Youth and XXI Century 2017", Kursk, 2017, p. 15-18. (in Russian)

4. Abdukarimova Kh.R., Abdukarimov N.A. "Solid Oxide Fuel Cells: An overview", Materials of X scientific and practical conference of TUIT, Fan va texnologiya, Samarkand, 2015, p. 209-214.
Analysis of Current Tendencies in Design of Solid Oxide Fuel Cells and Their Significance for Automotive Industry (BS)

Easy DAQ System Development with Arduino and Tri-Axis Accelerometer – Model ADXL335 (MS)

Improvement of Electric Vehicle Stability by Means of Wheel Torque Vectoring